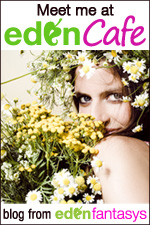 Eden Fantasys
is a store you can trust that's dedicated to helping you rekindle the spark in your marriage. It's more than just a adult toy shop, it's a community dedicated to what sex really is, the exploration of healthy sexuality and adding a little excitement in the bedroom. This morning in my mailbox I saw that
Night Owl Mama is doing a Valentine Give Away to win a $50 Eden Gift Card!
I am so in!
I must admit, out there somewhere on the web I have a blog that all my Disney & Mom Blogging peeps would cringe if they saw it. I decided to take a bit of an inner-personal journey this year and I wanted to chronicle it, without changing the rating of the DVC Mom Blog. I discovered a whole different world of Mom blogs out there that don't talk about kids and Disney. Blogs like
Mama Still Wears Gucci
,
The Bipolar Diva
,
The Naughty Mommy
, and
Getting Naughty Between the Stacks
. Did you realize that there's still more to life than taking care of the kids and Mickey Mouse? Yes! I know it's hard to believe, but there are moms out there still having a life that doesn't revolve around the PTA. It's amazing, I think that maybe I had forgotten. ;D
Night Owl Mama
, thank you for writing such a lovely post about this great store that helps adults remember there's more to life than the kids and daily grind. It's a great Valentine give away, and a great shop to be working with. I hope that I win your
Eden Fantasys
Give Away! I'll totally use it!