If you've hopped on over from Babes in Disneyland today, welcome!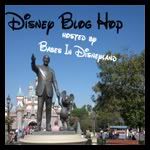 Today's hop theme is flowers & plant, which Disney does just about better than anyone else. The landscaping teams work tirelessly year round to make sure that Disney Parks are full of beautiful and unique landscapes that are complete in every detail. Visitors to Epcot this month have been treated to the spectacular annual
Flower & Garden Festival
. I wasn't able to spend any time enjoying the festival while on my trip, however I did stop by my favorite regular Epcot garden to see how it had been transformed. Much to my delight I found that behind the English cottages had grown a tea garden!
Growing in the Tea cup is a Bergamot Orange. The fruit is not particularly edible, but the essence is extracted from the fragrant skin to give the distinctive classic characteristics to
Earl Grey
and
Lady Grey
teas. Bergamot is also popular in other parts of the world as a preserve, confection, and tobacco flavoring.
A 20 minute garden walk, to explore the world of tea, is sponsored by
Twinings Tea
, and takes you on a journey through the history of tea blending. For over 300 years Twinings has imported and blended the very finest ingredients for tea drinkers around the world. This delightful addition to the cottage garden inspired me, I think that I may try growing some herbs for tea in my garden this year. Perhaps I'll grow some mint or chamomile. Are you a tea drinker? What sort of tea flavorings would you like to grow?
Tweet