"Our heritage and ideals, our codes and standards - the things we live by and teach our children - are preserved or diminished by how freely we exchange ideas and feelings." ~Walt Disney
Integrity, you may think it's pretty cut and dry, but once you start blogging you're faced with a whole new world of idealistic quandaries. What is your blog about? Who is your audience? Can your space be bought? Can your opinions be bought? Are you willing to shill? Will you endorse things that you would never use? As a blog grows, the blogger is often faced with decisions that they may have never had to face before. As a Disney Blogger, and member of the greater fan community, you can find a wide variety of ideals and standards that what for one fan seem solid, for another seems ridiculous. On one end there are those bloggers "drink the kool-aid" and never question, on the other there are blogs that are highly critical of anything done today, ones that make you wonder if they're really written by fans. What you're going to put out there, and how you handle yourself in doing it are complex questions that everyone needs to answer.

The

Three Disneyland Moms

have come together and created a new

pledge for Disney Bloggers

to support ethical blogging and give folks some guidelines to work within. Their ideals are taken from the company that inspires them. I think that it's a great guideline and focuses on a desire for more journalistic Disney blogging that everyone should strive for. The

Three Disneyland Moms

are great women with a passion for writing, vlogging, and Disney.

I believe that I run my blog with integrity and have "worn" the

blue badge

above on the website for awhile now. I am truthful with my audience in both positive and negative experiences. I disclose all of my sponsored posts, and try very hard to keep them relevant. I have turned down opportunities to increase my reach, and even sponsors in order to keep with the vision I have for my blog and maintain quality I demand. I produce as much of my own content as possible, and ask permission in use of others work. I endeavor to be timely, truthful, and current with all of my posts. I believe in lifting others up and try my hardest to be a friend to others in the community. However, those that know me, I'm a pretty big gossip; when it comes to Disney, I think some of the most fun comes with guessing what will be coming next. I don't feel that I can take the

Disneyland Mom's Pledge

because I just can't say that I'll never post a Disney rumor. What I WILL do, and have always done, is tell you when what I'm saying is a rumor and/or wishful thinking. For me, not pledging with the moms when I know I won't keep it, and that disclosure of rumor, maintains my integrity.

I know I haven't blogged about the

rumored

Grand Floridian DVC construction yet... but trust me, it is so coming! The construction walls are up, but the notoriously tight lipped DVC won't say if it's their project or not.

If you're a blogger who is just starting to face some of the tough questions, I highly encourage you to head over to read the

Three Disneyland Moms Pledge of Integrity

. If you've been blogging for awhile and want to make your ethics known to your readers,

check them out

! These three great ladies have put together some smart, practical guidelines, and even created a super cute button for you to use on your blog. But whether you chose to sign up or not, remember to be "true to your heart" and blog in what you believe.

UPDATE: I'm *so* excited

to say that the Three Disneyland Moms pledge has been edited for clarity, which allows for ethical reporting of speculation when it comes to Disney rumors. The rule of the day is disclose disclose disclose. Always the best way to go. I've signed the pledge and will be sporting the new badge soon! :-)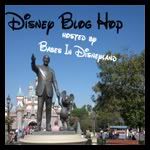 This post is part of the
Disney Blog Hop from Babes in Disneyland
, where you can hop on on over every Thursday and check out what the Disney community is talking about. Connect each with great Disney Bloggers and join in the Linky fun.
Tweet